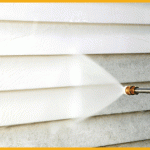 We, at One Way Painting, understand that once your painting has been completed, you'll want to make sure it looks great for many years to come. We also understand that natural elements can impact your residential or commercial property, and know the best ways to preserve your paint. You can be assured that the work we do is of the best quality. Both exterior and interior paint jobs should last up to 10 years, and so preparation is critical. We take pride in the fact that our painters prepare the surfaces with great attention to detail, have a thorough knowledge of preparation and painting products, and use premium paint products throughout.
Two major elemental factors that will affect the exterior paintwork of your home are the sun and moisture. Moisture damage can come from sprinklers, rain gutters, and plants. Excess moisture can cause problems not only with the paintwork, but also the woodwork. Dry rot and termite damage are two main causes of excess moisture. It is important to be aware of excess moisture and sun damage on your home, especially after painting the exterior.
Once you have painted the exterior of your house, only use soft or organic washes to remove dirt, smudges and marks. If you use chemical washes, domestic cleaning products or high-pressure washers, you risk damaging the paint and shortening the lifespan of the paint. Pay extra attention to the sides of the home that sit mostly in the sun, and that receive the most exposure.
For the interior paintwork of your home, you should only use light detergents or warm water. Some of the best light detergents you can use are white vinegar and water, or a light dilution of sugar soap. These methods will ensure your interior paintwork lasts as long as possible. Pay attention to the high traffic areas inside the home, such as, staircase walls, hallways, bathrooms, and children's bedrooms.
To prevent discoloration or causing damage to the sheen level of your painted surface, don't use scourers, abrasive pads, or colored rags to clean your paintwork. As previously mentioned, white or uncolored cotton rags are the best option to wipe and clean surfaces.
As professional painters, we are experienced in using the best techniques to ensure your paint job stands the test of time. We understand painting is an important investment to your property and are committed to making your house look its best. We provide high quality painting and have employees that you can trust in your home.