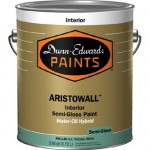 Aristowall is an interior paint product offered by Dunn Edwards. It is an environmentally safe product that protects human health by being an ultra-low VOC (volatile organic compounds) product.
Why are we excited about it?
Aristowall is a premium interior paint that creates an oil-like finish. It's extremely durable because it is an advanced water-oil hybrid resin composition that is scrub resistant. So, even after repeated scrubbing, the finishes will always look good! Something else that we love about the product is that you can we paint with the product over an oil based paint, even though Aristowall is water based! The paint also has great flow without excessive runs or sags to always create a smooth, and even finish. This paint is great to use on the interior if the residents are pregnant, and/or have children. It dries quickly, allows for water cleanup, and doesn't have a strong odor! One thing to note about the product is that although it has a short dry time, it has a longer curing time. That means that you'll need to keep your furniture and other things from touching it right away even though it seems dry, and ready to go!
Jeff and One Way Painting use green and environmentally friendly products whenever possible. We do what we can to satisfy our customers and research great new products to accommodate our customers.