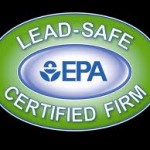 Educate Yourself About Lead-Based Paint
It's the Law! This is important for home owners who reside in a home that was built or renovated prior to 1978. Lead has been proven to be harmful to adults, and can cause developmental issues in children. The most common way to expose your body to lead is from dust. The dust can come from paint, soil, hand-to-mouth activities, and through home renovations. The worst form of exposure is from ingesting it.
The best way to find out if your home contains lead-based paint is to either hire a professional to check, or purchase a DIY testing kit from your local hardware store. If you do want to do any renovations to your home, make sure to hire an EPA Certified Contractor who has been educated in dealing with these issues. Only if you are disturbing more than six square feet of the interior and twenty square feet of the exterior, will you need to research the abatement process.
If your home was built before 1940, there is an 87% chance that your home contains lead. If your home was built between 1940 and 1960, there is a 69% chance that your home contains lead. Lastly, if your home was built between 1960 and 1978, there is a 24% chance that your home contains lead.
The owner of One Way Painting, Jeff McCabe, is EPA certified and prepared to tackle any issues associated with lead-based paint. We will do an abatement of your home if the paint does, in fact, contain lead. The process is completely worth it as we do not want to put our customers at risk!